Between Sydney and Brisbane, we had already joined what is essentially the backpacker highway, but we didn't really get into the spirit until we hit Northern Queensland. If there is one must-do experience on the "highway" that every backpacker can agree on, it's Fraser Island. It remains one of the best things we did on our entire trip.
Much like Kangaroo Island, this is one of the few places in Australia you really should book a tour for. Fraser has no paved roads and you need to know what you're doing driving on the sand that covers the entire island. After a bit of research, having figured out that there are very few tour operators that offer camping trips, we settled on Drop Bear Adventures, which, again, turned out to be one of the best decisions, as they operate the best tours to the island, hands down, no contest. Luckily, we didn't know much about the island before we went, so we couldn't but be wowed at every turn during the three magical days we spent there. After a night in the amazing Flashpackers (hands down the best hostel we stayed in during our entire time in Australia) in underwhelming Hervey Bay (not a single pub open at 9pm), we were transferred to the ferry by taxi, with a four wheel drive taxi to meet us at the other end. A taxi, minus its driver. She had gone fishing and miscalculated the return trip, which already seemed a pretty good indication that we were now on island time. Still pretty much clueless as to what expected us on the trip, we finally arrived at camp and met Mark, our guide and the rest of the group, who had come to the island from Rainbow Beach.
What followed were three days and two nights of touring around the island, taking turns driving the jeep, exploring sweet water lakes, taking rainforest hikes, climbing rocks and discovering the wildlife. Mark had a knack of always arriving at the hot spots just a hair earlier than all the other tour groups and by the second day, we ceased to believe it might be a coincidence that we always arrived to find this…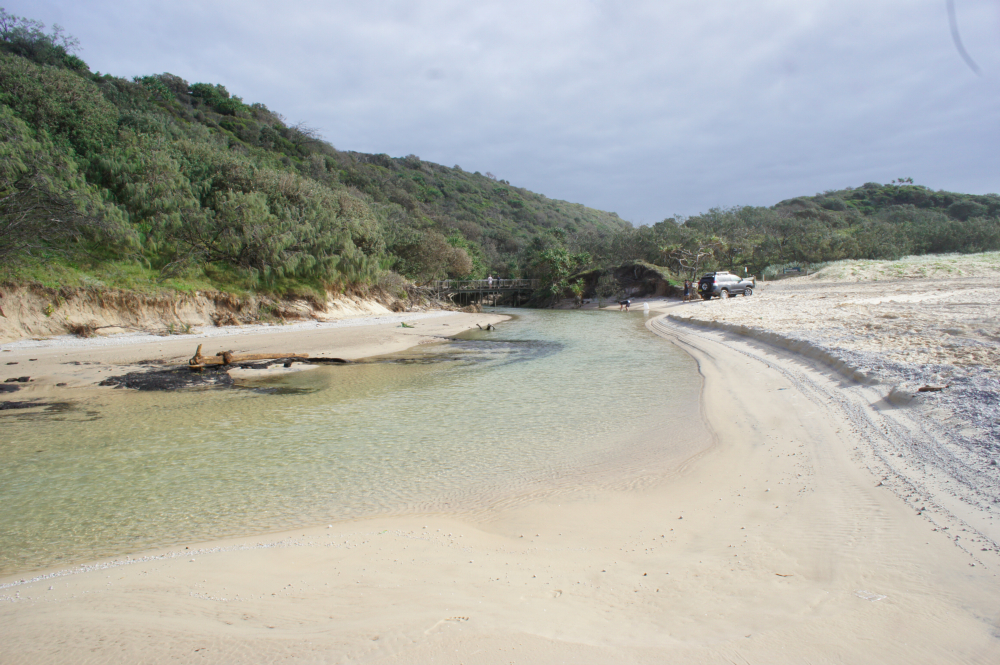 ….which had turned to this by the time we left:

Thanks to the small size of our group, the camp atmosphere, shared kitchen duties and – let's be honest – the large quantities of goon, wine, beer and Bundaberg we had shipped over from the mainland, the high-speed bonding was intense, even compared to other similar trips I've been on. By the end of the Fraser Island adventure, I just wanted to put them all in my pocket and bring them all along for the rest of our trip. At least we got to keep Josh, who came with us to Airlie Beach, and Andy, who joined us there a few days later.
Some more pictures, courtesy of the Drop Bear Adventures Facebook page:
Other stories I have written about Fraser Island:
The 2015 Trend Destination Hot List (Fraser Island is Number 11)