The only reason why my first trip (after a month in Melbourne) took me to Tasmania was the weather. They get cold, wet winters down there and I just about made it over for the last few weeks of Autumn. In hindsight, it was a great way to start. The manageable size meant I had no trouble navigating it on my own and covered a reasonable distance, giving me the feeling of having seen everything I wanted to see in only two weeks. Travelling on my own, the fact that this is an island state, populated with more than its fair share of convict descendants, worked to my advantage, the Irish accent working a charm and ensuring a friendly welcome everywhere.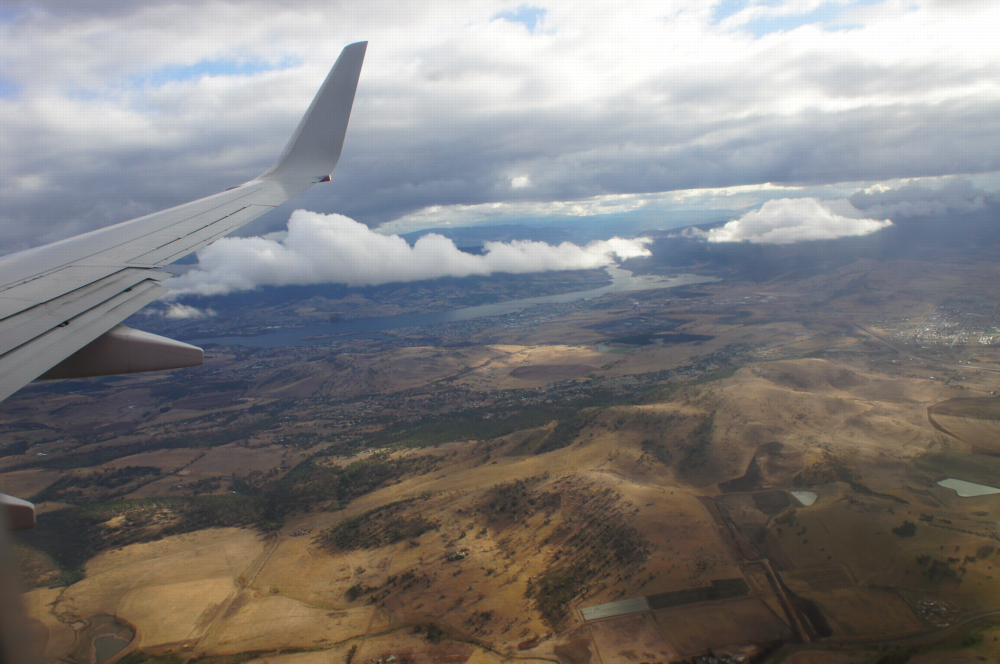 Tasmania is seemingly viewed by most mainland Australians as a place not unlike Europe's perception of Ireland: a green, pristine haven, where people lead a simpler, more grounded life (and along with this the assumption that they are also a bit simple-minded and rough round the edges). I flew in to Hobart on the 18th of October, and after a pretty epic Paddy's weekend in Melbourne, a rural respite was just what I needed, so I took my rental Micra away from the city to Cygnet.
Fittingly enough, the sight of the town was a rather sobering one. There was only one hotel/pub/restaurant in town and even that only had a handful of people in it. My first introduction to what I would come to accept as a sad reality of small-town Australia: there is seldom any sign of life after dark and a decent pub is a rare find – and it's even rarer to find one with a bit of life in it. Thus, most of my time in Tasmania was filled with great days and vaguely depressing nights. I had an ever so vague plan sketched out that involved traveling up the East coast, down the middle, up towards the West coast and back down the middle in a slightly dented figure 8. I usually drove 200-300 kms a day with various sightseeing stops along the way and a loosely defined goal to reach before night time.
The first highlight of the trip was Bruny Island.
I boarded the ferry blissfully unaware that I wasn't supposed to take my rental car on any ferries at all, and disembarked on the other side fully aware, but willing to ignore the fact that I shouldn't drive on gravel roads, of which the island has many. On the recommendation of an island resident I met on the ferry, I called to book my accommodation and was informed that I would find the proprietors of the Alonnah Retreat at the local pub. This turned out to also be the only place in the village to get a meal – and a decent one at that – and I was told I'd be safe to drive there after a few drinks, as the policeman lives across the road, so it seemed an auspicious start all round. The Island is spectacularly beautiful and takes all day to drive around, thanks to the bumpy roads, so I decided to stay a second night, in order to do the highly recommended Bruny Island cruise on day two. As the hostel was fully booked for that night, I ended up in the garden shed, which was not half as bad as it sounds, and allowed me to wake up to this…..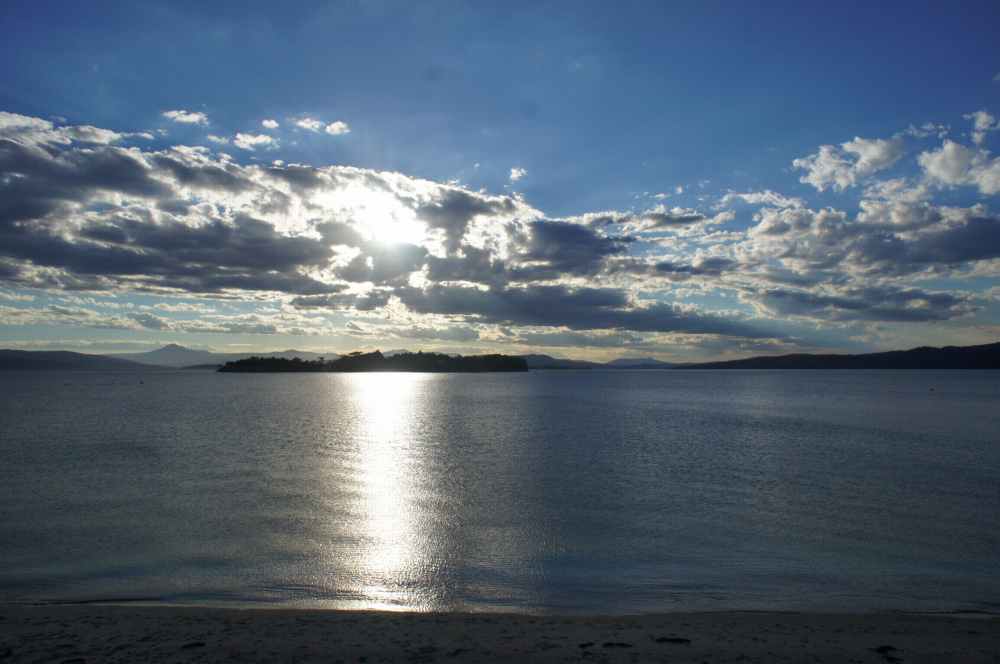 ….for an early departure and ferry back to the mainland. The weather changed after that, so I didn't linger too long along the coast and made it all the way to St. Helen's in a day.
After almost a week of rural Tasmania, I was happy to reach Launceston, the island's second city, on Saturday night. Even if the urban excitements on offer were rather tame, an evening harbour walk beat sitting in my motel room watching Foxtel, which I had been doing most other nights. On Sunday, after a visit to the gorge, it was lovely catching up with an Irish family friend and have a little taste of home.
I have written about the next stop on my trip elsewhere, but suffice to say that Corinna was another highlight of my two weeks in Tasmania and the spectacular weather contributed to my enjoyment of this place that is as far away from any other form of civilisation as you can get in Tasmania.
By the time I reached the bitumen, as they call any surfaced road here, I would have been happy to never drive another mile, but I carried on until I found a town that looked like it had at least a bit of life in it, which is no easy feat on Tasmania's North West coast, out of season. Despite my best efforts, it was another night in, with a fish and chip takeaway. By the time I had made it through another night in a desolate town with an empty pub (at Tarraleah, which I also wrote about in the article linked above) I had had enough of country life and returned to Hobart a day earlier than planned.
Luckily, Hobart didn't disappoint, so I ended my two-week adventure on a high note.
Other stories I have written about Tasmania:
Volunteering Wildlife Australia: Save the devils at Cradle Mountain, Tasmania
8 Great Australian Wine Regions – Tamar Valley, Tasmania
Tasmanian Tipples
Rock the Vineyard: MONA concerts, Hobart, Tasmania