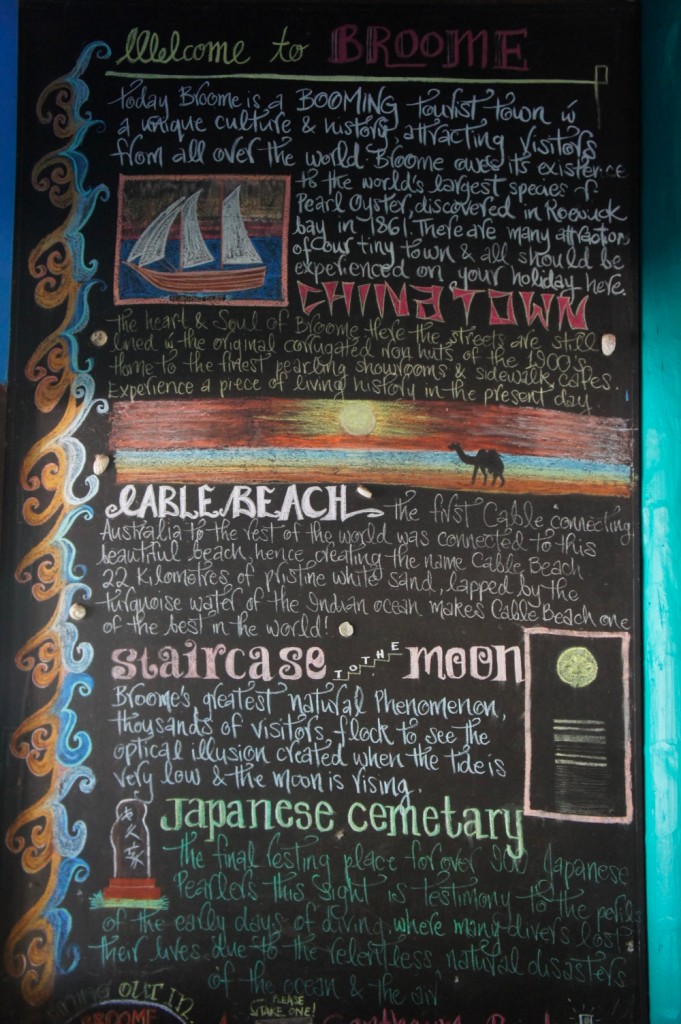 Broome is more like a random assortment of villages connected by heavily-roundabouted roads, but after more than a week crossing a part of the country where any town that has a supermarket AND a pub is considered a metropolis, it was a welcome return to the joys of modern life.
Between the air con and the free WiFi, the shopping centre became my favourite place during the midday heat (more than 40° and humid as hell). The early morning and evening hours were devoted to ticking off things on the "Things to do in Broome" list and hanging out with a random assortment of excellent acquaintances that we had accumulated.
Part stupendously beautiful tropical paradise, part desolate, climate-rattled outpost of civilisation on the edge of the continent, Broome is a melting pot of extremes. There's the holiday destination, with pristine beaches, plenty of sights and a lively nightlife (in season), but then there's also the place that people call home – people who work hard, on extreme conditions, and who stick it out when the tourists are long gone. Needless to say, I am not cut out for the latter (you have never heard the likes of my complaining about the heat. It was just. too. hot!), but some of the nicest people I have ever crossed paths with live there and I hope to one day return – in winter.
Things we did in Broome
Cable Beach
Cable Beach was literally the first thing we saw after dropping our bags at the hostel – and was it ever a sight for sore eyes! A bit like a mirage, the endless, fine white sand stretches endlessly alongside the azure waters, like an invitation to an imaginary butler in tight white shorts to materialise and serve a dry Martini to an impeccably bathing-suited lady wearing a broad-brimmed hat, preparing to pop a Ferrero Rocher into her red-laquered mouth.
Instead there was us, a horde of unwashed backpackers looking forward to the closest thing to a shower they had seen in two days… ugh, wait, what, the water is warm? Like, bathtub-warm? Gross. I'm going for a real shower. Nice to look at, though – and the locals throw a mean beach party when they put their minds to it!
Dinosaur footprints at Gantheaume Point
The dinosaur footprints are one of those things that you think are going to be amazing, because you secretly hope it will feel a bit like that scene from Jurassic Park… until you realise that, despite the fact that they are dinosaur-old (120 million years) and dinosaur-shaped (see above), they are also pretty small. Then someone will make a joke about prehistoric chickens and that will sort of spoil your sense of awe. But then you have an amazing time exploring the surrounding rockpools (only at very low tide, kids) and decide the footprints are pretty cool, too.
Sunset at Gantheaume Point
If a year in Australia has taught me anything, it's that I'm just not into sunsets in the way some people are. Some people are INto sunsets in ways that are beyond me. Having said that, you shouldn't miss the sunset at Gantheaume Point, because white beach, plus red rocks, plus ball of fire dropping into the ocean makes for a very impressive light show.
Dutch Flying Boat Wrecks
Pretty much the opposite of the dinosaur footprints, going to see sunken flying boats at low tide – and getting up well before sunrise to do so – seemed like it might not be worth the hassle. It turned out to be a beautiful early-morning walk in the muck – and a wildlife discovery tour. The planes as such are fine enough, but the things you see crawling, slithering, growing and swimming all over and around them are the real attraction. You have to walk about 1km offshore to find the wrecks, a remnant of Japanese air raids on Broome during WWII. The mud in the bay preserved the planes pretty well and they're a nice excuse to take that walk.
Ride a scooter!!!
I feel like, in a way this should be number one, although it's unlikely that any scooter could ever become as much of a highlight as the one we were kindly given a loan of by Dane. I also have to admit I would never have become as excited about the scooter without the boundless enthusiasm of Hélène, who shouted Scoooter! in a tone of ecstatic joy usually reserved for boygroup sightings by teenage girls, and made every scooter ride – and stories about scooter riding – 100% more entertaining. Also, you didn't hear this from me (because that would be irresponsible), but towing a bike behind a scooter is a LOT of fun…
Go to a shitty nightclub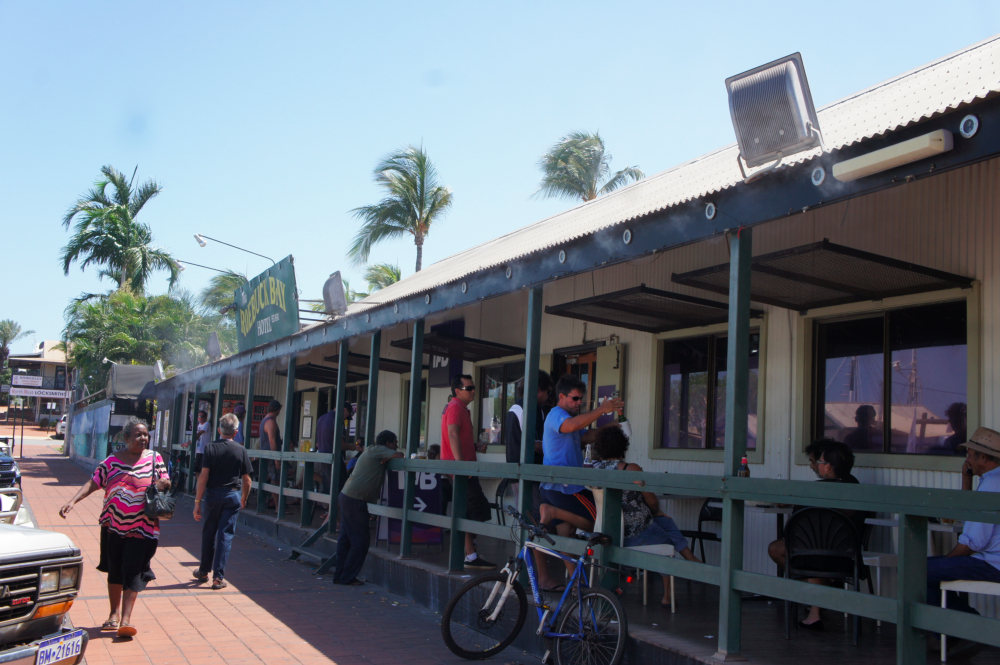 Much like any large country town (slash tourist resort), Broome has its fair share of cheesy nightclubs, but I have it on good authority that Thursday night at the Roey (that's the Roebuck Hotel when it's at home) is the place to be. The main draw is the wet t-shirt contest, because of course it is. If the DJ had been less terrible, it would have been an excellent place to piss the night away. A night at Divers Tavern was way more enjoyable, live band and all, but that probably just means I'm showing my age and can't keep up with the cool kids at the Roey.
Drink a beer at Matso's
After almost a year in Australia, I finally discovered a beer I loved. Not that Australia doesn't have a lot of very fine beers. It does, but my reaction to those was usually "This is a very fine ale, but why are you charging 15,00 dollars for it? Did you misplace a comma?" Matso's Mango Beer, on the other hand, made me say "This is quite unlike anything I've ever tasted and I would actually go out of my way to procure a bottle of it when I return to Munich." The original Broome brewery opened in a former Japanese shop in 1997 and they still run a brewhouse there, although most of the brewing is done down the coast these days.
Chinatown
I'm not sure what I was expecting, but Chinatown is really not much more than a string of Asian-themed shops and restaurants. Considering the fact that there are many cities in this world whose Chinatown is bigger than Broome in its entirety, I guess you need to adjust for scale? They do have a statue of a Japanese pearl diver, but I'm not even sure if that technically counts as part of Chinatown.
Things to do in Broome (but we missed out on)
Despite the fact that we spent the most of a week in Broome, there was a few things we missed out on – for various reasons. Certain things – like a sunset camel ride on Cable Beach – are just not my thing. The inexplicably famous Staircase to the Moon only happens 3 nights every month (as far as I can tell, it's just the moon reflecting on the mudflats at low tide?) and we happened to not be there on those exact days. The reason we didn't catch a film at Australia's oldest outdoor cinema (since 1916!) escapes me, but I'm sure it would have been great. Just look at how old-timey it is:
Due to the fact that the season was on its very last legs, highlights of Broome's social calendar such as the Crazy Crab Races were no longer happening (major sadface over here).
All in all, we did very well out of Broome and if it hadn't been for the end-of-season panic and threatening approach of cyclone season, we might have stuck around a lot longer. I once again found out that there is nothing better than hitting upon a bunch of seeming randos who turn out to be exactly the people you wanted to spend that exact week in that exact place with.