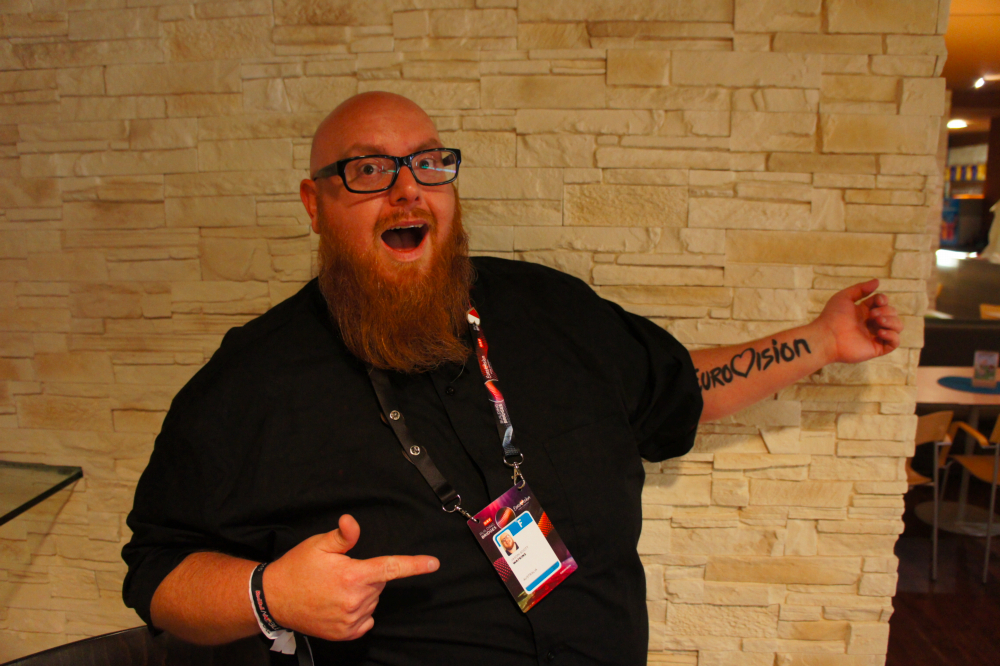 Jason Watkins just had the most Australian moment. A fellow Eurovision fan showed him his coin-sized tattoo. Not one to miss a cue, Jason deadpanned, "You call that a tattoo? THIS is a tattoo," revealing the letters E-U-R-O-V-I-S-O-N inked across his own arm, from elbow to wrist.
A loyal follower of the song contest, Jason has had many such moments since he arrived in Vienna over a week ago. Australia as a whole is having a Eurovision moment this year and the Melburnian can hardly believe that he's not only witnessing, but living it. Having only attended once before, he usually watches the delayed telecast at home, preceded by a self-imposed total media blackout to retain the element of surprise.
This year's trip was planned long before Australia's participation had been announced and would have been memorable no matter what. Jason had already secured the ultimate ticket package through international fan club OGAE International (rest of the world) for all shows, including the Grand Final. With the official entry, ten accreditation slots became available to Aussie fans and as an avid, dedicated, and – most importantly – vocal supporter, Jason bagged one of them, securing access to invite-only events, the red carpet and press centre.
A Eurovision-themed "Building Brunches" food blogger meetup and other social activities have fallen by the wayside in the face of an overwhelming schedule. Most days, Jason can be found at the Wiener Stadthalle location, filming and commenting on rehearsals, taking selfies with contestants and meeting friends he previously knew by their social media avatars only. The rest of his time is spent at the Euro Fan Café.
After all the schmoozing, backstage access and perks that come with official accreditation, this is where he meets up with the hard core fans who, not only for this one week, eat, sleep, dream Eurovision. Like the Sowdens, an entire fan family from Brisbane. On Friday night, Nick Sowden went from audience member to stage star, as one of the backing dancers in the Australian entry for the inaugural International Cover Contest, while mum Michaela and sister Eloise looked on. Fans from 12 nations performed cover versions of Eurovision hits in front of an 800-strong crowd. Representing Australia, Jason delivered a rousing rendition of ‪Marija Šerifović's winning 2007‬ entry ‪Molitva. His English version of the Serbian fan favourite was ‬greeted with rapturous applause, but strong competition meant Australia was not victorious – yet.
But what about that other Australian contestant in Vienna? Jason has encountered nothing but goodwill for the wild card entry so far and considers Guy Sebastian a strong contender who will definitely make the Top Five. Whatever happens, he urges Australian viewers to embrace this unique opportunity to make their votes count: "Get up for the live telecast, watch and vote, vote, vote!" After all, for fans Down Under there may never again be another Eurovision whirlwind quite like the one that Jason Watkins is swept up in right now.
Find Jason's musings on his two great loves – food and Eurovision – on his blog… and find out who won the "Building Brunches" competition.
Other stories I have written about the Australian fans of Eurovision:
Australien: Europäer für eine Nacht
Australien und der Song Contest: Nach Wien schielen