Sydney is a beautiful city, with jaw-dropping vistas shoved under your nose at every turn, but I firmly believe that it is precisely the natural beauty afforded the harbour city that makes it so incredibly lazy regarding the more mundane aspects of a liveable city, such as a functioning infrastructure.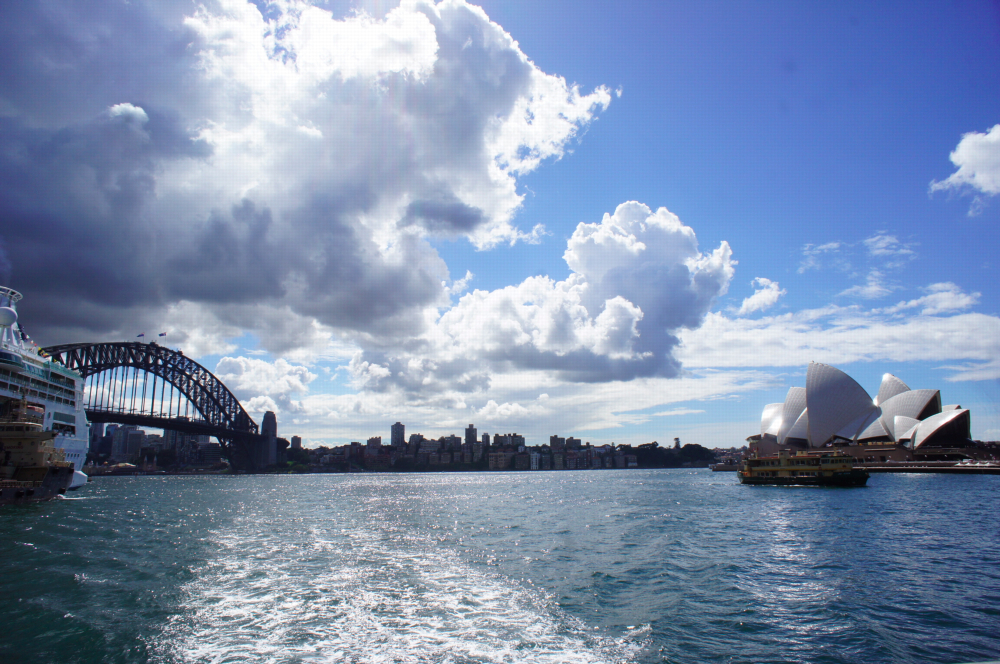 The public transport offered by Sydney would be a joke even in a city one tenth of its size, but for an international metropolis, national financial centre and popular tourism destination, it is laughable. There simply is no good way of getting around Sydney (even if you have a car, which means, more often than not, you'll be stuck in traffic). The notable exception, while not terribly practical, are the ferries. So they may not always be the fastest option or even get you to all the places you want to go, but they are a great, relaxed way to see many city sights – and they have free WiFi, too boot!
We caught a ferry from Neutral Bay to Circular Quay for our first trip into the city, which took us past the Opera House, Harbour Bridge and the Prime Minister's residence at Kirribilli…and just like that, we had ticked off three things off our Sydney to-do list, all while enjoying the sun on the upper deck and checking our emails.
Once you purchase a mymulti ticket, an unlimited travel pass for Sydney buses, trains and ferries, shuttling back and forth across the harbour is free, so we made a point of going on as many ferries as possible, sometimes even randomly hopping on the next best ferry to leave from Circular Quay and seeing where it took us.
The best Sydney ferry trips, ranked in order of must-do-ness:
Manly Ferry

The Manly Ferry features on most wider Sydney itineraries and is like a little day out of the city, within the city. Although it's technically a suburb of Sydney, Manly feels more like a small seaside town in itself. On the outer shore, there's a big surf beach, a few dodgy pubs and a plethora of fish+chipperies. The bars and restaurants on the harbour side are slightly more posh, but for us, the best part were the ferry trip to and the long walk back from Manly (as far as the spit bridge, where you can catch a bus into town).
Cockatoo Island by Ferry
A pretty surreal gem in Sydney's harbourscape, Cockatoo Island has been many things over the years: a penal settlement, shipyard, industrial school and finally, a permanent campsite. You can catch a ferry across, explore the many layers of history on several island walks, have a drink at the beach bar or even stay over night in one of the tents set up along the waterfront.
Taronga Zoo Ferry
If you're travelling with kids, this is probably a no-brainer and by all accounts, the zoo really is worth a visit. We gave it a miss, but the ferry is, much like the Neutral Bay Ferry, a mini sightseeing cruise past the harbour's most famous icons.
Paramatta Ferry
This is an extremely random recommendation and we were all but declared insane for venturing out as far as Paramatta. It is a rough suburb, indeed, but the ferry trip towards Darling Harbour on a river catamaran was different from any of the others and scenic in its own way.
Other stories I have written about Sydney:
Destination Guide: Oceania -Sydney
Scenic Sydney